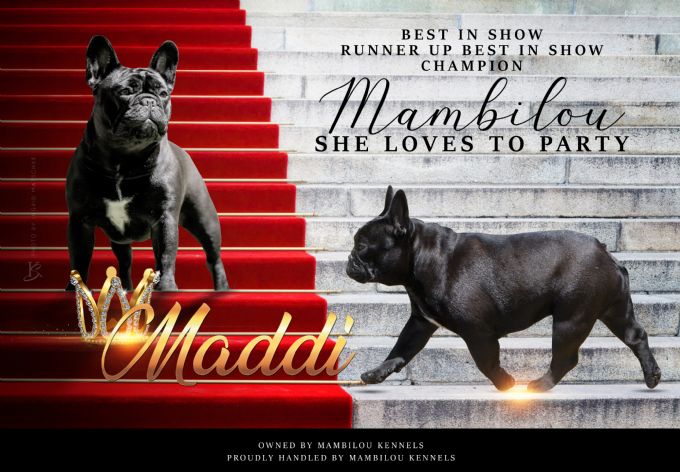 Welcome to Mambilou Kennels
Here at Mambilou Kennels, we actively show our French Bulldogs, both on the Victorian Show circuit and also interstate. I am very proud of my dogs, my champion imported bloodlines and also my home grown and developed champions. Since establishment in 2009 we have Multiple Grand Champions and Australian Champions we are very proud of them all.

We equally strive for both conformation and health, carefully selecting which dogs are retained in our program and in weighing up probable outcomes from potential matchups.
All of our dogs are DNA , X-Rayed, and Hip and Elbow scored and Cystinuria tested prior to participation in our breeding program in line with the French Bulldog Scheme. This is not mandatory however we feel it is in the best interest of the breed, as further tests evolve we will also complete these such as RFG tested (Respiratory Function Grading Scheme) we expect this test to be avaible in late 2023. We are excited to participate in this form of testing, with being new to Australia.

Mambilou do not have traditional kennels as such, but all of our frenchies are homed in a loving family environment, and given the attention and affection they require and demand. We hand raise any puppies in the same warm family atmosphere, with round the clock care and tenderness. It is in this environment that we hand pick any potential future champions to keep, and to ready any other babies for life with their new families.

We invite you to come and chat, and to meet our frenchies on the local dog show scene. If you would like to enquire about bringing one of our frenchies into your family, then please feel free to contact me via email. You can keep track of our Kennel as follows and see our dogs-
Facebook: https://www.facebook.com/mambiloubulldogs
Instagram: @mambiloubulldogs
80879 Visitors